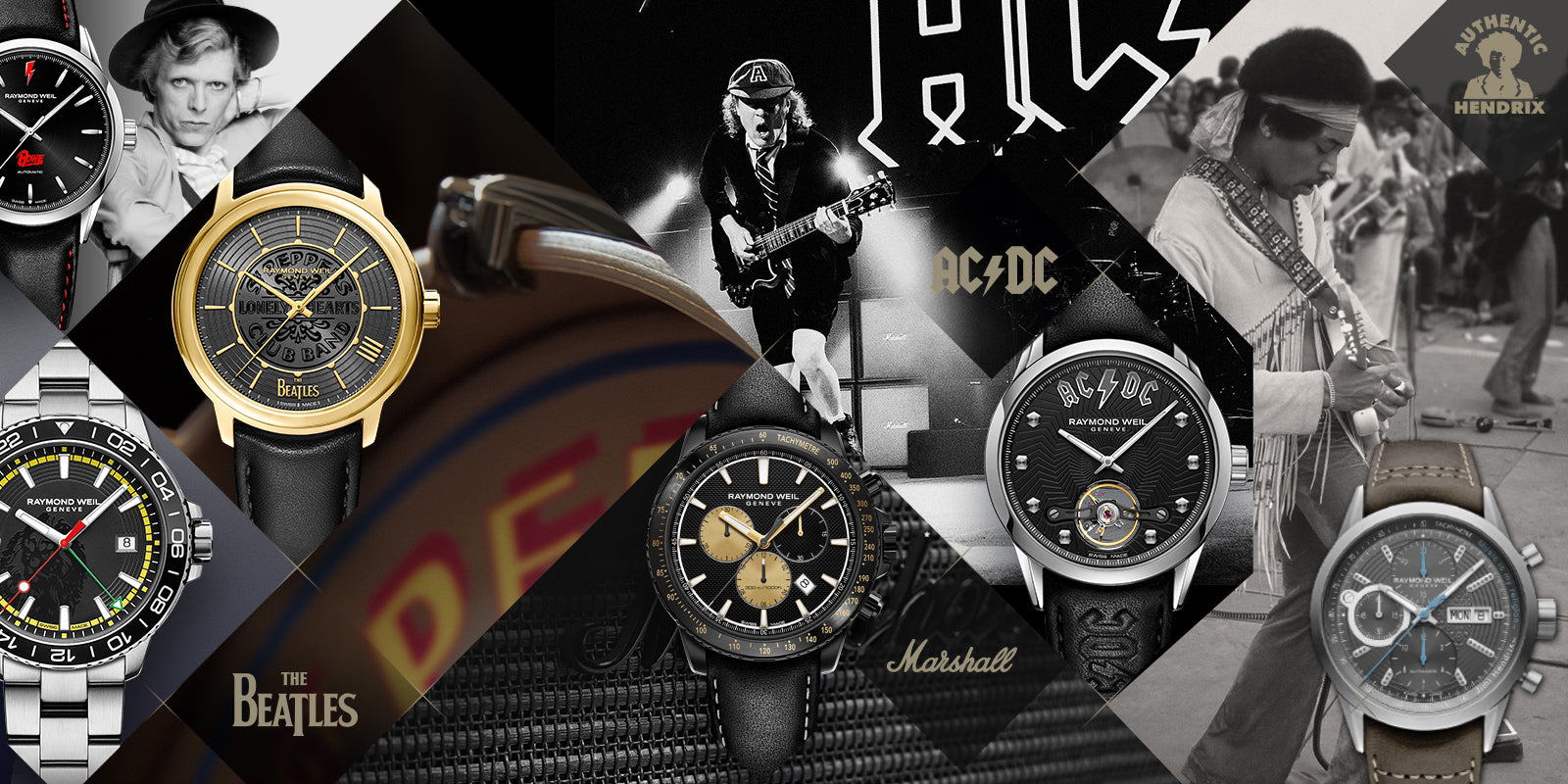 Jan 07 , 2021
THE MUSIC ICONS SERIES
The Raymond Weil Music Icons series is a strong collection of individual pieces from various ranges across the whole brand, celebrating world famous artists, bands, and companies who have given everything to the industry.
This series has been running for a number of years, but a large number of these fantastic pieces are still available at
Jura Watches!
FREELANCER JIMI HENDRIX™ LIMITED EDITION
RAYMOND WEIL pays tribute to legendary guitarist Jimi Hendrix with its newest Limited Edition Freelancer chronograph, inspired by the musician's timeless Woodstock performance. This freelancer is a must-have for any Jimi Hendrix fan; the timepiece is limited to just 500 units worldwide.
 THE BEATLES LIMITED EDITION MAESTRO
RAYMOND WEIL continues its collaboration with the world's most famous rock band by creating a much-awaited third Maestro, The Beatles timepiece limited to 3,000 pieces. This new Limited Edition is inspired by the legendary Sergeant Pepper's Lonely Hearts Club Band album and stands out through its use of innovative material and design.
A magnificent ode to this world-class music icon, we introduce the Bob Marley tango GMT timepiece. Designed in collaboration with House of Marley, limited-edition tango has only 1,500 pieces available worldwide. The watch design was inspired by the colours of the Ethiopian flag and Bob Marley's successful title "Time Will Tell" from the Kaya album.
The Marshall Amplification Limited Edition timepiece part of the TANGO collection pays tribute to the iconic amplifier and speaker cabinet, renowned for being used by the most iconic musicians of all time. This exclusive watch pays homage to the distinctive style and appeal of Marshall, playing on generous volumes to delightful effect.
Luxury Swiss watchmaker, RAYMOND WEIL, is proud to unveil a new collaboration in its Music Icons series, the freelancer AC/DC Limited Edition, paying tribute to legendary Rock and Roll Hall of famers, AC/DC. This exclusive watch incorporates the in-house developed Calibre RW1212 movement, allowing onlookers to view the rocking "Alternating Current/Direct Current" balance within the timepiece.
DISCOVER
In collaboration with the David Bowie Estate, RAYMOND WEIL pays homage to legendary musician – David Bowie. The Limited Edition freelancer "David Bowie", is a tribute to the life and musical career of one of the most influential artists of all time.
CURRENTLY OUT OF STOCK
In tribute to the 80th Anniversary of 'The Founder of Rock 'N' Roll'
DISCOVER
---