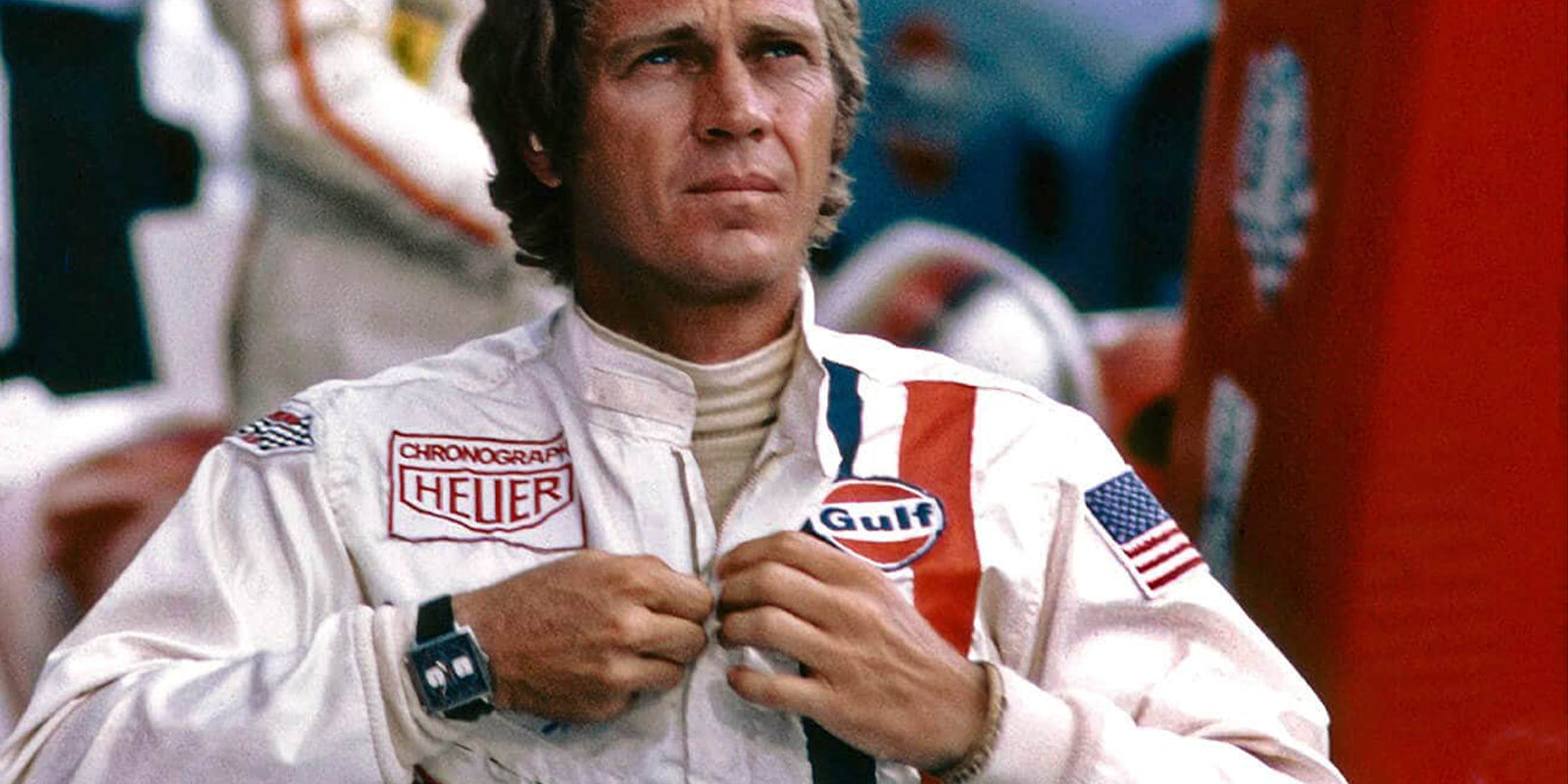 Jan 09 , 2021
STEVE MCQUEEN - LE MANS (1966)
Why do we go to the movies? For the action, for the story, to enjoy the latest multi-million dollar blockbuster. Whilst we all enjoy watching some handsome stars who are masters of their art, it is also worth considering the smaller details. The locations, the cars, the clothes - and also what the well-dressed star is wearing on their wrist. 
The use of watches in Hollywood has progressed from them being incidental accessories on a famous wrist, to becoming carefully choreographed brand placement that earns studios huge sums in sponsorship and product placement. Through the last 50 years, some of the watches that have graced the wrists of Hollywood's biggest actors have become stars in their own right.
So in this new series, let's take our first trip down memory lane and look at one of the most iconic watches in movie history being worn by the King of Cool himself...

HEUER MONACO CHRONOGRAPH
Steve McQueen and TAG Heuer (or just Heuer as it was at the time) is a wonderful story worthy of Hollywood. A 1970 film in which the King of Cool breaks the screen with his steel blue eyes and his TAG Heuer Monaco on his wrist. From famous films such as "Le Mans" to "Bullit", Steve McQueen loved challenges and the thrill of it all. Decades later, the actor continues to fascinate new generations and embody TAG Heuer's values. An eternal icon who loved to seduce and push the boundaries.
Even 40 years after its premiere in June of 1971, Steve McQueen's epic Le Mans is considered by many to be the greatest racecar film of all-time. (Admittedly, by just as many, if not more, it is considered overlong and self-indulgent, but let's leave that to one side for the moment). Just the starting scene alone -  the tortuous waiting for the race to begin at 4pm with an explosion of roaring engines, chaos and smoking tyres, is a masterpiece in itself.
Filmed during the annual 24-hour endurance race at Le Mans, France, in 1970, this fast-paced drama follows Michael Delaney (Steve McQueen), a Porsche driver haunted by the memory of an accident at the previous year's race in which a competing driver was killed. To top things off, Delaney also finds himself increasingly infatuated with the man's widow (Elga Andersen). The minimal storyline focuses on Delaney's race-long rivalry with his Ferrari-driving archnemesis, Erich (Siegfried Rauch).
PEDAL TO METAL SHOOTING AT 380KM/H
Maybe Le Mans has gained a cult following because Steve McQueen – the King of Cool – was so natural in the role.  "He looked more like a racing driver than any real racing driver" was what many people said about his performance. McQueen, himself a self-confessed adrenaline junkie, didn't give a damn about critic reviews (which weren't great) or public opinion about the film on the legendary 24 hour race. The priority for McQueen was a nod from the men whose opinion mattered most, the ones who wore fire-proof race suits themselves, and for them to say:  "That's it, he gets it."
McQueen's obsession with perfection went so far that when the 917 passes the Ferrari 512 in the decisive scene, he demanded on filming it at top speed – around 380 km/h on the Hunaudières straight. "At a few km/h slower it would have been a lot easier, but Steve insisted on the full speed." said former Porsche racecar driver, Herbert Linge, who occasionally played Steve's double in the film.
The film company Solar Productions had a ton of work to do in the summer of 1970 and carted hundreds of extras to Le Mans in order to make the race look as realistic as possible. McQueen focused on every detail, including his selection of a race suit, which he demanded be the same one Swiss racing driver Jo Siffert wore, a crème white one with blue and red racing stripes and the famous Gulf logo.
A CASE WITH 20 HEUER WATCHES
Switzerland's Jo Siffert provided cars for the film, renting them to Solar for 5,000 dollars a week (he then later sold many of them to film stars for a nice profit.)  When the clever Swiss heard that McQueen had chosen his race suit to wear in the film – which featured a large stitched-on "Chronograph Heuer" patch – he acted immediately. Siffert called his friend Jack Heuer and discussed with Heuer the possibility of equipping as many people as possible in the film with Heuer Chronographs – and, most importantly, the leading man.
Jack Heuer didn't need to be told twice. The watchmaker boss told Gerd-Ruediger Lang to get 20 watches over to Le Mans as quick as possible, and he did as he was told. Lang, who worked then at Heuer as a timekeeper among other things, would later found the Chronoswiss brand in Munich. Along the way to the Le Mans , Lang pulled out all the stops, even giving up his last bit of cash at the Swiss border.
Here is an excerpt from the book "The Times of My Life - An Autobiography" by Jack Heuer:
"As mentioned in Chapter III, I had recruited Don Nunley, a property master in Hollywood, to help me with my early efforts at product placement in Hollywood films. In early June 1970 he called me from Hollywood and said: "Jack, I have some good news for you. I have been appointed property master on the film 'Le Mans' which will star Steve McQueen as a racing driver. But now I need much more than a few chronographs. I need stopwatches, timing boards, large pocket chronographs and any other timing paraphernalia you can think of that's used in motor racing. But I need to have all this within the next ten days as we start shooting at Le Mans in a week or two."
On hearing the name of the King of Cool connected with stopwatches my ears went up like flick knives and I immediately sprang into action to get all this equipment ready and crated for shipping to France. However, since these watches and timing devices had not technically been sold it would have taken me too long to get the export papers required for what would in effect be just a "temporary import". I instructed our driver simply not to declare them at the border when crossing into France. The driver, Gerd-Rüdiger Lang, had asked to work for us to improve his knowledge of watchmaking in general and chronographs in particular. He was a very nice and talented person and I was planning to send him to our US subsidiary on a temporary US visa. This had turned out to be impossible, since in our case these special US visas were issued only to Swiss citizens and Gerd-Rüdiger was German.
Anyhow, I gave Gerd-Rüdiger cash for his travelling expenses and he set off for Le Mans in his own car loaded with our equipment. He was of course stopped at the French border and had to hand over most of his travelling expenses to pay customs duty and a fine. But he arrived safely on time on the film set in Le Mans and delivered all the props to Don Nunley. He also got to meet Steve McQueen and returned safely to Bienne.
About 10 days later I received another phone-call from Don Nunley who said: "Jack, this time I've even better news for you. We've finished the trial shots and will start shooting for real tomorrow. Steve McQueen is going to wear one of your "Monaco" wrist chronographs and will also wear the Heuer logo on his overalls. But I have a problem: what shall I do with the watches when shooting is over in about three weeks' time?" Delighted with this good news, I thought for a moment and had nightmare visions of the customs hassle if we attempted to bring back the watches we had "smuggled" into France. I told Don he could give the watches away as gifts.
As I was not present at the moment when Steve McQueen chose to wear a Heuer "Monaco", I have to draw on hearsay from Don Nunley and Derek Bell, the British racing driver who also took part in the filming. The film company had hired two professional racing car drivers to coach McQueen to drive the unbelievably-fast Porsche 917. One was Derek Bell and the other was Jo Siffert, who was under contract with us. McQueen and Siffert got on like a house on fire, perhaps because they had both started their lives in humble circumstances and had gone on to become superstars in their respective professions. The day before shooting was due to start, one of the film's production executives, Robert Rosen, went up to Steve McQueen and said: "Steve, tomorrow we start shooting for real. So far you've worn several types of racing overalls but now you've got to settle on how you want to look." Apparently McQueen pointed towards Jo Siffert and said he wanted to look exactly like him. Siffert then ran to his caravan to fetch one of his white racing overalls which had the Heuer logo on the heart side and handed it to McQueen. Then Don Nunley went up to McQueen and said: "Now you have to chose a watch – here's a nice Omega!" Apparently McQueen then handed the Omega back to Nunley, saying: "Not an Omega, they might use my name", and instead he chose a Heuer "Monaco", never having heard of us. Don Nunley says he had to offer the "Monaco" because it was the only watch of which he had three identical models. He needed three because one model would be used in the live racing shots, one would be used in the still photography and one was needed as a spare in case the others got damaged. Furthermore, if Jo Siffert's racing overalls were emblazoned with a Heuer logo, film continuity demanded that the driver should also sport a Heuer chronograph on his wrist!
The film company was delighted with the watches and timing equipment Heuer had provided and invited me to visit the film set at Le Mans. I flew to Paris Orly where they had sent a twin-engine Beechcraft private plane to pick me up and fly me to Le Mans. There I was given a tour of the set but unfortunately did not meet Steve McQueen as he had a day off and was exploring the surrounding French countryside on a motorbike. I did, however, have lunch with the film crew and sat next to Elga Andersen, the beautiful German actress who played the leading female role in the film.
A few days after returning from this visit I got another call from Don Nunley. This time he was in a panic because he had given away the watches to key members of the film crew and McQueen had noticed this and had flown into a rage, saying Nunley had misused his reputation. Nunley then got out of this argument by saying all the people had bought the watches at a special reduced price. He was going to send me a fax with the names of all those to whom he had given watches and also specify the type of watch. He asked us to make out invoices at token prices and to fax them to him immediately. We did exactly as Don had asked and in the following days checks for 30, 50, 70 etc. dollars trickled in from those members of the film crew who had bought our watches. Unfortunately it also meant Steve McQueen went away not too happy about this incident involving Don and our company (But see Chapter IX, "The 1996 public offering and the 1999 sale to LVMH").
In July 2012 I was staggered to read that the "Monaco" watch worn by Steve McQueen for the still photography was sold at an auction of Hollywood memorabilia at a hammer price of USD 650,000. I believe this is the highest price ever paid for a Heuer timepiece!"
In total, 26 Heuer wristwatches (and numerous other timepieces, stopwatches and timers) were ordered - a mix of Carreras, Autavias and Monacos.  This article at onthedash.com explains in great detail which watches were used.
On the set of Le Mans, six different Heuer Monacos were put to use in different circumstances. Once filming wrapped, four went to prop manager Nunley, one to McQueen's financial manager, and one to Altounian. One of those, like a number of other legendary watches, has vanished into thin air. "Most likely, it just got lost," says TAG Heurs' Heritage Director, Catherine Eberle-Devaux, "which, from a heritage director perspective, it's..." She lets out an exasperated gasp.
Fast-forward to December 2020, one of these watches went to auction. The watch was gifted by McQueen to his personal and film set mechanic, Haig Alltounian.  McQueen wore the Monaco while screaming down the infamous Mulsanne straight in a Porsche 917 at almost 200 mph on the last day of filming. As filming wrapped, McQueen emerged from the 917 and his wife and two kids flocked around him. The film's chief mechanic, Haig Altounian, was already attending to the car when McQueen walked over, took the blocky Monaco off his wrist, and offered it up. "I want to thank you for keeping me alive all these months," he said, according to Altounian. Altounian demurred at first. Didn't McQueen want to give it to his son? The mechanic demurred until he couldn't anymore. It's too late," McQueen finally said. "It's got your name on it.". It has a case back engraved "TO HAIG Le MANS 1970". The watch sold for a Heuer record $2,208,000!
Want one? Click on the link below to buy the TAG Heuer Monaco Calibre 11 from Goldsmiths, and to discover the other TAG Heuer Monaco watches within the collection.
TAG HEUER MONACO CALIBRE 11
---