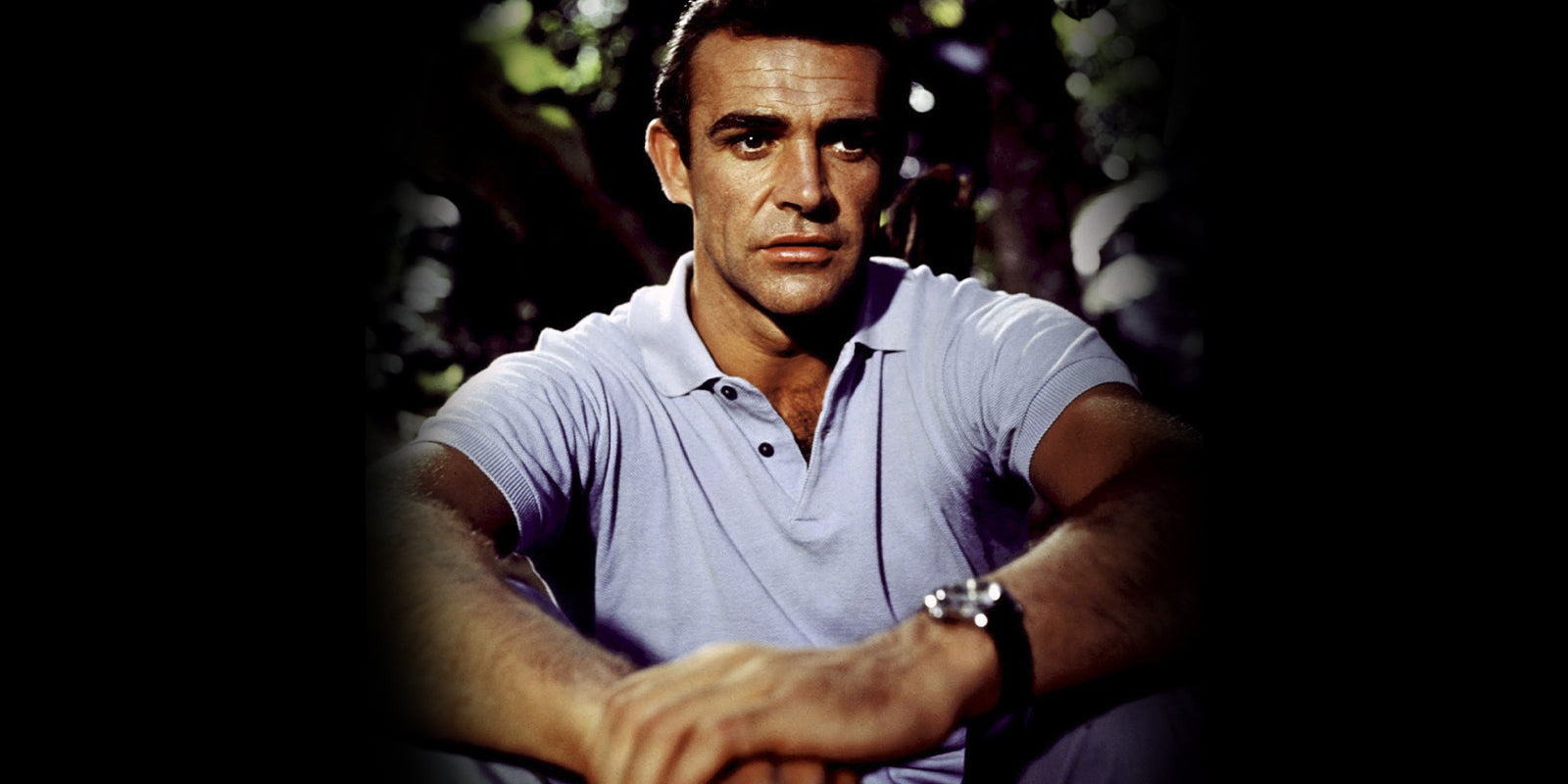 Jan 28 , 2021
On 31st October 2020, the world received the sad news that Sir Sean Connery had died at the age of 90. The Edinburgh-born actor found international fame as Hollywood's original James Bond, and ultimately set the tone for what Ian Fleming's 007 would embody on the silver screen.
To many, his portrayal of James Bond will never be bettered, and his name alone conjures up images of debonair style and charm. But for watch fans, it's all about his Rolex Submariner.
But it wasn't supposed to be a Submariner.
In the Ian Fleming novels, it is written that Bond wears a Rolex Oyster, not a Submariner. A thorough article by Dell Deaton from the February 2009 issue of WatchTime, however, makes a compelling argument that Fleming is imagining a Rolex Explorer 1016 – the same watch he wore on his own wrist.
Reading the 1963 novel On Her Majesty's Secret Service (the 10th novel in the Bond series), we discover that 007 likes Rolex for its robustness as much as its accuracy. Fleming writes:
"Bond surveyed his weapons. They were only his hands and feet, his Gillette razor and his wrist-watch, a heavy Rolex Oyster Perpetual on an expanding metal bracelet. Used properly, these could be turned into most effective knuckledusters." Having smashed up his Rolex doing just that, he decides to buy another watch. "He would get another one as soon as the shops opened after Boxing Day. Another Rolex? Probably. They were on the heavy side, but they worked. And at least you could see the time in the dark with those big phosphorus numerals."
Photo credit: Justin Morton
This makes sense; Bond is a spy, and the Oyster is a formal but understated watch. The Submariner is eye-catching. Not only that, but in the early 1960s, tool watches had not yet caught on as a fashion trend. The Submariner was a rare watch, used only by actual divers. 
But the story goes that on the first day of filming, someone in the props department had failed to get a watch for Connery. Director Terence Young was willing to settle for a Rolex, any Rolex, and someone on the beach was wearing a Submariner. And so a legend was born...
DR. NO (1962)
In the film that launched the James Bond saga, Agent 007 (Sean Connery) battles mysterious Dr. No, a scientific genius bent on destroying the U.S. space program. As the countdown to disaster begins, Bond must go to Jamaica, where he encounters beautiful Honey Ryder (Ursula Andress), to confront a megalomaniacal villain in his massive island headquarters.
Sean Connery wears a Rolex Submariner Ref. 6538.
The original Bond Submariner sold at a Phillips Auction for $567,000 in 2018. So who knows how much it could fetch in the future. If we're going to make any comparisons, take a look at our article on  the Paul Newman Rolex Daytona. 
FROM RUSSIA WITH LOVE (1963)
Agent 007 (Sean Connery) is back in the second installment of the James Bond series, this time battling a secret crime organization known as SPECTRE. Russians Rosa Klebb (Lotte Lenya) and Kronsteen are out to snatch a decoding device known as the Lektor, using the ravishing Tatiana (Daniela Bianchi) to lure Bond into helping them. Bond willingly travels to meet Tatiana in Istanbul, where he must rely on his wits to escape with his life in a series of deadly encounters with the enemy.
007 again chooses the Rolex Submariner Ref. 6538.
Since Q had yet to convert the secret agent's watches into a  multi-functional essential accessory, this one showed just the time on its signature dial face. A few years later, watches would become an integral part of 007's arsenal of weaponry and tricks.
 GOLDFINGER
 

(2012)
The powerful tycoon Auric Goldfinger has initiated Operation Grand Slam, a cataclysmic scheme to raid Fort Knox and obliterate the world economy. James Bond, armed with his specially equipped Aston Martin, must stop the plan by overcoming several outrageous adversaries.
Once again it's the Submariner Ref. 6538 on the wrist of 007. 
The Rolex Submariner 6538 seen in "Goldfinger" can be seen during the first few minutes of the movie, just after Sean Connery wiggles out of his wetsuit and steps into the Latin nightclub. If you've seen the movie, then you know that Bond was checking the time, as he has just set a bomb to blow up a concealed heroin laboratory.
In one scene, Bond illuminates the Rolex Submariner with his lighter.
As well as Bond, infamous Bond girl Pussy Galore sports the Rolex GMT Master Reference 6542 
This Goldfinger Submariner watch is crafted from a solid block of 904L stainless steel, which is the perfect material for a dive watch that takes you from underwater situations into sultry nightclubs. This particular type of stainless steel is corrosion-resistant, plus it buffs to a soft shine that offers a look similar to that of white gold. The bezel features 10-minute markings for divers to time their decompression stops; for the non-diving Rolex Submariner aficionados, it just looks cool! 
THUNDERBALL 

(1965)
Led by one-eyed evil mastermind Emilio Largo (Adolfo Celi), the terrorist group SPECTRE hijacks two warheads from a NATO plane and threatens widespread nuclear destruction to extort 100 million pounds. The dashing Agent 007, James Bond (Sean Connery), is sent to recover the warheads from the heart of Largo's lair in the Bahamas, facing underwater attacks from sharks and men alike. He must also convince the enchanting Domino (Claudine Auger), Largo's mistress, to become a key ally.
Although Bond does again wear the Submariner 6538, this movie is perhaps more remembered for the two Breitling watches: a Breitling Navitimer Ref. 806 that is worn by a character Derval in the movie, and a Breitling Top Time given to Bond by 'Q. And obviously it isn't a regular watch...it doubles as a Geiger counter (which Bond uses during the movie).
Connery wearing the Breitling Top Time, and right, the original watch used in the movie
But Rolex did still feature in the movie, and made the most of it through advertising. This ad from the time for the Rolex Oyster Perpetual.
In 2013 the Breitling Top Time timepiece sold for £103,875 (US$160,175) at Christie's Pop Culture auction in South Kensington, London.
Although the 1965 Breitling watch sold for more than double its estimate, what's even more remarkable is that this piece of film history was originally purchased for a mere £25. Yes, £25 of your English pounds! An eagle-eyed watch collector spotted the watch at a car boot sale (a British version of the garage sale where goods are sold from the back of a car) with a price tag of just £25 (approximately US$38). The watch had been considered lost since the movie wrapped filming.
ON HER MAJESTY'S SECRET SERVICE 

(1969)
Agent 007 (George Lazenby) and the adventurous Tracy Di Vicenzo (Diana Rigg) join forces to battle the evil SPECTRE organization in the treacherous Swiss Alps. But the group's powerful leader, Ernst Stavro Blofeld (Telly Savalas), is launching his most calamitous scheme yet: a germ warfare plot that could kill millions!
This was Australian actor George Lazenby's only outing as 007, but he kept the pre-requisite of 'looking good in a Rolex' going. During the movie he wore two different Submariners: the Reference 5513, and later in the movie a Pre-Daytona 6238. (There was also a third Rolex in the movie - during a break-in scene, Bond places a Reference 6358 with an unscrewed crown on top of a copier machine). The 6238 was the only Rolex chronograph ever to appear in the Bond series.
Left: The original Rolex Pre-Daytona Chronograph 6238 as used On Her Majesty's Secret Service; photo © Artcurial. Right: photo © United Artists, EON Productions
After production wrapped, staff from the production company EON Productions were given the opportunity to buy costumes used in the film. One lucky member bought Lazenby's Rolex Chronograph, which went on to sell at Christies Auction in 2003 for £22,912; at the time of sale in 1968 the watch cost just 790 CHF – around £600.
James Bond's Rolex Pre-Daytona Chronograph 6238 with red seconds hand
photo © Artcurial
This extremely rare Rolex chronograph has a red chronograph hand, which according to legend was changed at the request of the film producers of the film. This unique feature makes this particular watch even more unique because it is the only Pre-Daytona Rolex Chronograph 6238 with a red chronograph hand.
LIVE AND LET DIE 

(1973)

When Bond (Roger Moore) investigates the murders of three fellow agents, he finds himself a target, evading vicious assassins as he closes in on powerful Kananga (Yaphet Kotto). Known on the streets as Mr. Big, Kananga is coordinating a global threat, using tons of self-produced heroin. As Bond tries to unravel the mastermind's plan, he meets Solitaire (Jane Seymour), a beautiful tarot-card reader, whose magic is crucial to the crime lord.
Rolex Submariner ref#5513 from the James Bond movie "Live and Let Die" photo courtesy of Jake's Rolex World
Roger Moore's first outing as Agent 007 re-introduced the Rolex Submariner Ref. 5513, but with a twist, thanks to Q. As well as being a timepiece, the watch additionally functioned as both a circular-saw and a magnet, predictably helping Bond out of a jam or two.
Fast-forward to 2015 and  the saw bezel Submariner sold for 365,000 CHF ($363,000) at a Phillips auction. It was quite possibly bought by Rolex themselves, since in 2016 they posted a video of it on their Instagram still spinning after all these years!
THE MAN WITH THE GOLDEN GUN 

(1974)
Cool government operative James Bond (Roger Moore) searches for a stolen invention that can turn the sun's heat into a destructive weapon. He soon crosses paths with the menacing Francisco Scaramanga (Christopher Lee), a hit man so skilled he has a seven-figure working fee. Bond then joins forces with the swimsuit-clad Mary Goodnight (Britt Ekland), and together they track Scaramanga to a tropical isle hideout where the killer-for-hire lures the slick spy into a deadly maze for a final duel.
Once again, Bond chooses the ever-reliable Rolex Submariner Ref. 5513, but maybe Q had gone into semi-retirement as this time there were fewer gadget add-ons.
Look out in this movie also for the watch worn by Christopher Lee's villain Scaramanga - possibly a Rolex Cellini King Midas?
LICENCE TO KILL 

(1989)
007 relinquishes his licence to kill, disobeys his orders and goes on a mission of revenge when his best friend's wife is killed by a drug baron. A beautiful CIA pilot flies him to Sanchez's South American headquarters where, disguised as a hit man, Bond is hired by the villainous drug dealer.
After a 15 year absence during which Bond has worn mainly Seikos (although a Rolex GMT Master did appear in The Spy Who Loved Me), the Rolex is back for one last hurrah. And which Rolex is it...
The Rolex Submariner, reference 5513, was worn onscreen by Timothy Dalton's stunt double, not Timothy Dalton himself. Interestingly enough, Dalton, as Bond, wears a Rolex Submariner ref. 16610 (or 168000 / 16800) with date window at the 3 o'clock position, while this watch worn by the stunt double is a 5513, without the date window. 
© Photo Credit: Portrait of Timothy Dalton from Fanpop;  Bond wearing the 16610 in film from TimePieceChronicle 
This would be the last appearance of a Rolex watch in a Bond film to date. Since 1995 when Pierce Brosnan took on the role of Bond with his debut in Golden Eye, Omega has been the watch brand worn exclusively by Bond. 
---